Awards and Media Attention
Did you know that the Candleberry Inn on Cape Cod is the #1 Traveler Ranked Bed and Breakfast in Brewster, MA on TripAdvisor? We're grateful to all of our former guests who have shared their Candleberry Inn experience online. Without online reviews from our guests, many of the awards and recognition listed below wouldn't be possible!
---
HotelsCombined Recognition of Excellence 2020
2020 RECOGNITION OF EXCELLENCE
---
---
---
---
Gute Reise Austria Magazine
Featured Bed & Breakfast on Cape Cod
---
Green Vacation Deals
Ranked #5 on the list of 2019 Top 15 Bed & Breakfasts on Cape Cod
---
14 Top-Rated Tourist Attractions in Cape Cod & the Islands
Written by Barbara Radcliffe Rogers and published May 31, 2019
Candleberry Inn is featured in the Where to Stay on Cape Cod for Sightseeing section of the article.
---
2019 Cape Cod Life Best of Cape Cod & the Islands Award Winner
2019 Best Bed & Breakfast/Inn in the Lower Cape
---
2019 LUX Life Restaurant & Bar Awards
Leading Purveyors of Homestyle Gourmet Breakfasts 2019 – Massachusetts
---
Booking.com Guest Review Awards 2018
Booking.com's annual appreciation program that recognizes partners for their top-notch hospitality according to review scores left by guests after their stay. In 2018, The Candleberry Inn on Cape Cod's Guest Review score was a 9.8 out of 10.
---
HotelsCombined Recognition of Excellence 2018
2018
RECOGNITION OF EXCELLENCE
---
iGap Travel Guide 2018/2019 LGBTQ+ Award Winner – Luxury Historic Inn
---
2018 LUX Hotel & Spa Awards – Best B&B Accommodation 2018 – Barnstable County
---
---
Cape Cod Life Publications –
---
---
---
---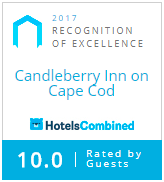 ---
TripAdvisor 2017 Certificate of Excellence
---
Booking.com Guest Review Awards 2017
---